A lot of people wonder whether an internet-based backup system is just a gimmick, invented by geeks who thought it would be cool to backup across the internet. Geeks may have thought it up, but there are valid business reasons to backup to a geographically distant location on hard drives instead of tapes.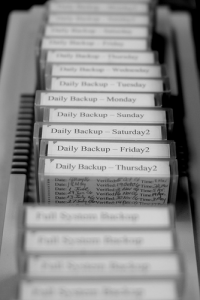 In the early days of computing, way back about 15 years ago and earlier, virtually all backup was tape-based. There would be a stack of 10 tapes, labeled Monday1 – Friday1 and Monday2 – Friday2. Someone had the job to replace the tape in the tape drive and take the just-completed tape home, bringing from home the next tape to be overwritten. Larger companies would have a storage service perform this function, with the added benefit of storage in a secure, controlled environment. Other companies would store tapes in their bank's safe deposit box. Still other companies would not bother to take their tapes offsite but keep them in a safe in the office. Or just leave them sitting in the closet with the server.
So if there were a fire at the business, and the tapes were there, everything would be lost. Even if the tapes were in an ordinary firesafe, there was a good chance they'd be damaged because ordinary firesafes are designed to protect paper, not media.
But the offsite tapes presented another problem- the accessibility of securely stored tapes. Nights or weekends were problematical. As experienced in Katrina on the Gulf Coast, a lot of companies lost not only their production servers but their backup tapes down the street at the bank or storage facility.
So when bandwidth became affordable and available and was sufficient to transmit changed data, the internet became the best solution for getting the backup offsite. And storage on hard drives is more reliable and less expensive than tape storage, and far easier to manage.
There are companies that risk keeping their backups on removable hard drives in their offices or at a local storage facility. A tornado, or hurricane, fire, or flood can easily ruin both original data and backup copies. Why take a chance? Enveloc is secure, offers several levels of offsite storage, and is accessible twenty-four hours a day. Try our no-risk solution today!


You can follow any responses to this entry through the RSS 2.0 Responses are currently closed, but you can trackback.