Remote Backup Version 10 New Features
February 15th, 2017 | Posted by in
Uncategorized
Remote Backup Version 10 New Features   February, 2017

    
---
Enveloc is proud to announce release of its much-anticipated Version 10.  An innovator since 1996, Enveloc now offers enhanced security and protection against malware, especially the pernicious Ransomware which has become epidemic in our country.
DiskAppear  The Enveloc DiskAppear feature is designed to make locally USB attached external drives invisible to viruses and Trojans, especially Ransomware.  Please see the attached DiskAppear guide.
Google Drive  Enveloc can back up Google Drive documents.  Best practice is to use the Archive Bit option on Main Settings.  You may include Google Drive documents and folders in your regular backup selection, or configure a WireBack.  Wirebacks may also be set for "New and Changed Files Only" if you wish to WireBack the Google Drive incrementally.
No Windows Folders  By default, Enveloc will stop analyzing files or folders in the Windows operating system folder.  Virtually no programs save data in the \Windows folder.  If your system is one that does, the setting may be overridden with the following command in \enveloc\config.txt:
<IncludeWindowsFolderinBackup=Y>
No AppData Folders   Enveloc will no longer include the AppData folder by default in new installations.  Firefox and Thunderbird email users need to select the appropriate folder for their favorites and email messages, respectively.
 The new release is available for manual download and will create a new installation or update any previous version.  Automatic update for existing installations will be enabled in approximately ten days.
Technical Documents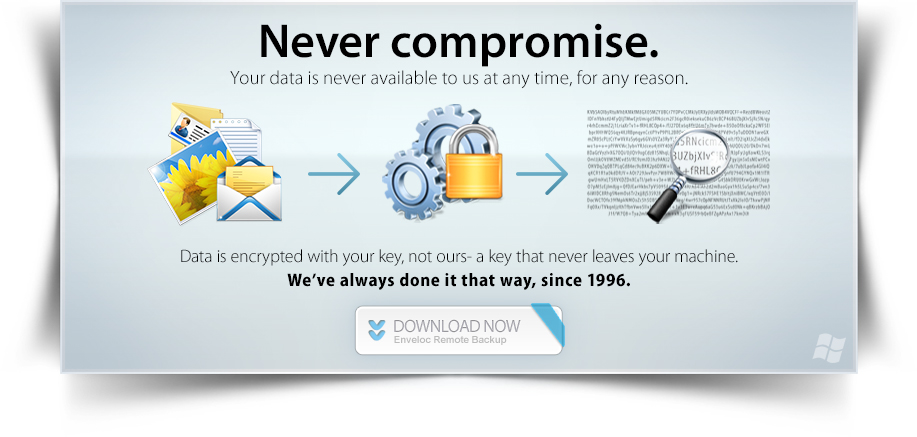 You can follow any responses to this entry through the RSS 2.0 Responses are currently closed, but you can trackback.