Each year, Gulf and East Coast residents flinch a little when June 1 approaches. The beginning of the Atlantic Tropical Cyclone Season (the official name for hurricane season in the eastern United States) brings memories of Ivan and Katrina, and for us older folks, Frederick and Betsy and Camille. These storms killed people. They also did a world of damage, especially for those living or working close to the water.
When Camille destroyed Pass Christian, Mississippi, in August, 1969, there weren't many computers in use along the coast. I was on the scene three days after the storm and the devastation was incredible. Along US 98, which is mostly in sight of the beach as it runs from Mobile to New Orleans, entire buildings were nothing but a pile of rubble. Bare foundation slabs sat side by side with no other evidence that homes had ever been there.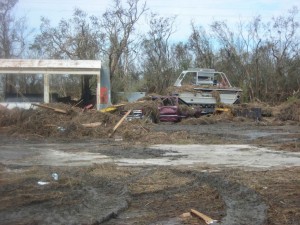 Thirty-six years later, the damage from Katrina in August, 2005 was similar but more widespread. When Katrina hit, however, most businesses were using computers and many lost their data. Those that stored backup tapes in bank safe deposit boxes sadly discovered their backup tapes were waterlogged or washed out to sea. Many had no backup and even though they had insurance to rebuild their business, they could not recover their business data.
Last year it became painfully obvious that northern and inland areas are also subject to severe flooding as Hurricane Irene blew up the east coast and inland to eastern Canada. New England suffered significant damage from this storm, mainly from flooding rivers and creeks.
Don't take a chance on high winds, high water, or other consequences of hurricanes destroying your business data. Download Enveloc Remote Backup and see how effective and economical a business data backup system can be.
By the way, the names for Atlantic hurricanes for 2012 are:
Alberto (already a named storm), Beryl, Chris, Debby, Ernesto, Florence, Gordon, Helene, Isaac, Joyce, Kirk, Leslie, Michael, Nadine, Oscar, Patty, Rafael, Sandy, Tony, Valerie, William
You can follow any responses to this entry through the RSS 2.0 Responses are currently closed, but you can trackback.