A lot of people are especially concerned with backing up e-mail, often in the Outlook format. Here at Enveloc, we cover this important data set in several ways. Microsoft Corporation's Outlook provides Contact, Task, Note, and Calendar utilities. All of this information is typically stored in one large file with the extension ".pst". The size of the pst file depends on how many e-mails, contacts and calendar items you keep. With a little housekeeping each year, it's easy to keep everything you need and also keep the pst files to a reasonable size of, say, a few gigabytes.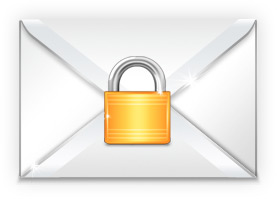 But before we talk about the housekeeping, how can you effectively backup a five gigabyte file that changes significantly every day? Because of the way Microsoft organizes the pst files, they change significantly whenever they are in use, too much for traditional block level analysis. At Enveloc we developed a method to backup each Outlook item- e-mail, calendar date, contact – as an individual file. We keep a table of metadata so that when you need to restore an item (or all the items in a folder, or all the folders in the pst), you can search by addressee, date, subject, etc. All these small files and metadata are encrypted, just like regular files, and transmitted as part of the backup set.
Why is this an advantage? It means that even though you might have thousands of emails and contacts, each time you backup, only the new or changed ones are saved. In practical terms, a 6 gigabyte Outlook data set can be backed up in 10 minutes each day. It also means that restoring lost items does not mean replacing the entire pst file, just adding back in the items that are missing.
Additionally, the user may back up the Email Accounts files as part of our regular file backup, and we offer on-site disc imaging to quickly backup the entire pst file as part of the disc image. With these backups you can restore the entire Outlook data set in case of a major crash.
Now about housekeeping. One method is to keep all important e-mails in your Inbox, not marking them as "read" until acted upon. Then, right after the end of each year, you can create an entirely new Outlook store (pst file) and name it, for example, "Archive_2012". You can do this by clicking File/Data File Management/New and following the prompts. Inside Archive_2012 make an Inbox, Sent, and any other folder you need. Then arrange your emails in date order, and copy the previous year's e-mails to the Archive pst. Then delete them from the current folders. Backup the Archive once and you're done backing it up. This entire process takes a few minutes of work, though you may want to plan it just before lunch to allow time for the copy to complete.
If you're not already using it, try Enveloc Remote Backup on your Outlook files and see how quickly and securely we can keep your e-mail, contacts, and calendar items.